Orkney has much to offer the wild brown trout angler. There are numerous lochs, each with their own unique appeal. Most are on the mainland but there are a number of hidden gems in the North Isles.
The West Mainland of Orkney is where all five of the largest lochs are situated, each of which are no more than a 20 minute drive from Kirkwall or Stromness. There are three "brown water" lochs, named thus due to the varying degree of peat stain present in their make up. Swannay is the largest of the three, situated in the north west corner of the mainland. While it is one of Orkney's deepest lochs, it also has many skerries and islands where most of the favoured drifts are focused upon. Swannay trout are dark and heavily spotted, famous for their full blooded takes. There is always the chance of a 2lb+ fish here. Hedgehogs and more traditional fly patterns work well here. Boardhouse and Hundland lochs are joined together by the Kirbister burn but have differing charachteristics. Boardhouse, the larger of the two is largely featureless and long open water or shoreline drifts are the order of the day with the trout being very surface active for most. Hundland on the other hand is full of skerries, points and islands and very demanding to fish from a boat, requiring a lot of work on the oars, but the rewards can be spectacular, with some cracking free rising fish to be had, on what is a comparatively lightly fished loch. Again hedgehogs, bumbles, daddies and flies of that ilk are the order of the day.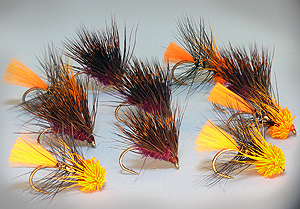 Stenness is a brackish water connected directly to Scapa Flow at the Brig o Waithe. Very lightly fished, it can produce large brown trout and sea trout at particular times of year, but in general it can prove to be a difficult nut to crack.
What is widely regarded as the jewel in the Orkney angling crown is the Loch of Harray. It is why most anglers make the pilgrimage across the Pentland Firth, many of which return annually, having enjoyed so much of what it has to offer. Crystal clear water, littered with skerries, bays, points and islands, and relatively shallow with the deepest part no more than 12 feet deep, and plentiful free rising, hard fighting fish, it all adds up to some of the best brown trout fly fishing available anywhere. The feeding, the water quality and the tremendous spawning burns in Harray are what sustains such a prolific fishery. It's scenic location is another appealing factor,and with Maeshowe, the Ring of Brodgar and the Standing Stones as a backdrop, it is awe inspiring. Harray fishes very well to top of the water tactics, with Hedgehogs and Muddlers top of the list of fly patterns, and not forgetting that this is the home of "Orkney Peach, a colour incorporated in many of the successful Harray flies.
Clumly and Skaill are two smaller lochs situated adjacent to Harray. Both are shallow and hold specimen trout, either could provide the visiting angler with the fish of a lifetime. These are locally regarded as "trophy" waters, and as such, catch and release is encouraged, with a camera always at hand to record your special fish.
The North isles lochs also provide something special, with the Sanday lochs, North and Bea, top of the list if specimen hunting is your penchant. Wild brown trout of 6lb+ are consistently contacted on these lochs which are now within easy reach of the visiting angler with daily ferry sailings from Kirkwall. These shallow lochs are susceptible to water quality changes with high turbidity experienced in high winds, so the weather forecast would always be considered before setting out on a North Isles adventure.