Orkney's sea trout season opens on 25th February and extends till 31st October. For most of the season, and in particular in spring and autumn, Orkney sea trout do as it says on the tin and go about their business in the shallow coastal waters of the archipelago. In this marine environment, they feed on a rich seafod cocktail of shrimps, sea slaters, small fish, lug worms and anything else that takes their fancy. Sea trout grow fast on such nutritious pickings, and when past the 12" measure from nose to fork of tail, become target for local and visiting anglers. On average, fish range from 12 oz up to 2 lb. However there's a good numbers in the 2 lb to 4 lb range and the occasional 5 lb plus specimen.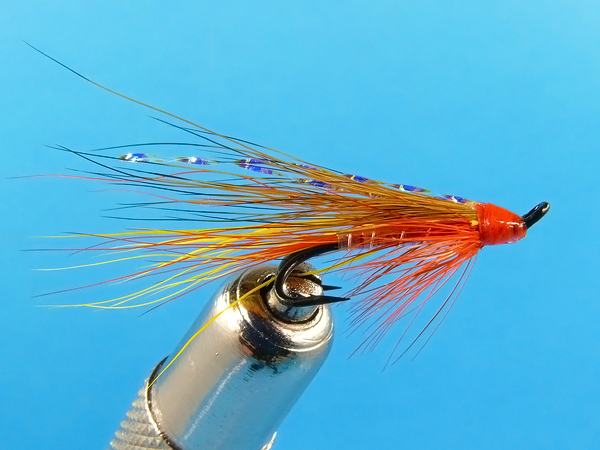 Tackle for the job is pretty straightforward. Basically, a traditional loch style fly rod, reel and floating or intermediate line are perfectly adequate. Chest waders are a must and studded soles recommended. A singe fly is preferred as droppers and bladder wrack make for snag-ups and lost fish. Loch flies, usually in bigger sizes (8s and longshank 10s) will do the business. Dunkeld, Peter Ross, Teal Blue Silver, Silver Cardinal and even a White Cat are all regularly mentioned is dispatches. Particular favourites include Nic's Lure, Potty's Palmer, Firecracker Lure, Platinum Blonde, Strawberry Blonde, Stinger and Geordie's Assassin.
Shorelines where burns run into the sea and tidal lagoon outlets are favoured. Sandy bays, a mixture of sand and shingle and open water close to bladder wrack and kelp will all produce. Anglers who like to get away from it all and soak up on scenery, wildlife and atmosphere are spoilt for choice. However those less fussy can enjoy good sport within the town boundary of Kirkwall and Stromness, and cast their lines amongst the redundant wartime piers, jetties and cranes of the former naval base at Lyness.
The fishing can work best when the weather is at its worst. Snow conditions can be excellent, so long as you get to your chosen location without a mishap. And even when you do, you run the risk of being apprehended by Orkney's finest constabulary. Yes, a few years ago, a member of the public telephoned the police because they saw somebody walking into the sea in a blizzard at first light. Suicide was suspected but it was only Robert Ianson gaan tae the troots!!
Salt water sea trouting is an extreme sport. This is
the
sport for anglers with masochistic tendencies. If standing up to your neck in freezing cold salt water; getting lifted off your feet by the breaking swell and digging your way through the snow drifts back to your car – if you can find it, is what turns you on, then welcome to paradise. Finally, I would also urge all sea trout anglers to make an effort to join the Orkney Trout Fishing Association. A nominal visitors' subscription is just a snip for free fishing and will be well spent ensuring the continuation of some of the best salt water sea trout sport in the country. And if you are fortunate enough to find yourself alone with a shoal of sea trout, please exercise restraint. Keep only what you need for the table and put the rest back.